In Philly, Lily Kind is best known for her work in the lindy hop scene, as a vernacular jazz dancer, and co-founder of RagTag Empire, as well as the former second-in-command to Vince Johnson at Urban Movement Arts, Philly's downtown epicenter of street and club dance styles. She collaborated with UMA colleague Mark "B'Boy Metal" Wong on Metal & Kind Indescribable Flowers, a critically acclaimed performance for the 2019 Fringe Festival titled.
Her latest endeavor, Wolfthicket, began in 2015 as research-project-designed-for stage with the Sarasota Contemporary Dance Company. In 2016 it became a darkly comedic, athletic, collaborative piece of dance theater co-directed with set designer Adam Stone. In 2019, a side project grew out of Wolfthicket rehearsals, and Kind made Bolero, an over the top romp set to the iconic classical bop. In early 2020, Kind toured to Chicago to perform the full show as a trio Table Projects. Before the pandemic, Kind also showed an excerpt of the work at the Rocky Awards, which she also hosted on behalf of thinkingDance and Fringe Arts. 
Kind came to Philly in 2015 from Baltimore, where she'd established a reputation for making large-scale collaborative, immersive, multidisciplinary dance theater as the leader of Effervescent Collective. Her DIY production process and aesthetic was forged in the fire of the 2009 economic recession, when Baltimore's art and music scene experienced a boom.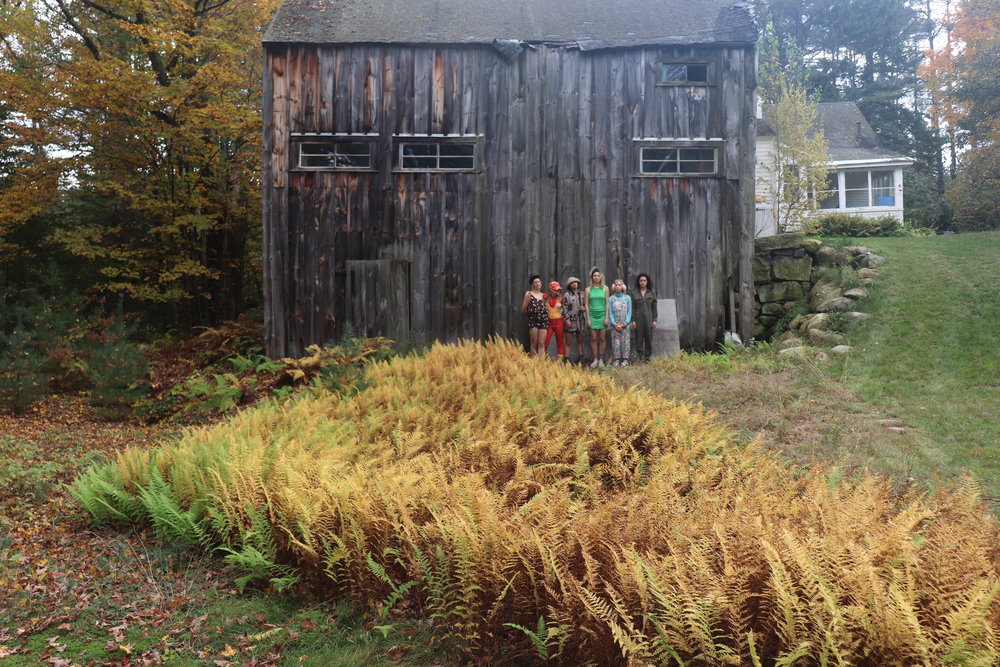 Her experience adapting her process to challenging circumstances has been necessarily applied this past pandemic year. The Wolfthicket ensemble (Amalia Colón-Nava, Maddie
Hopfeild, Chelsea Murphy, Lillian Ransjin, Dylan Smythe, and Eva Steinmetz, with special guests
Elizabeth Weinstein, Johanna Kasimow, and Melanie Cotton) met up outdoors for regular groove sessions.
"We doubled down on the good feelings of dancing and sweating together," says Kind. "It was never a formal rehearsal. It was practice: show up and show off for each other, share what we were working on, little cyphers on the basketball court in Lemon Hill." 
Wolfthicket draws upon hand clapping games, recess activities, make-believe, and satires of intertwining US American folk traditions. The show is a collage of improvisations that Kind and ensemble have been developing since 2015.
Kind has written a playbill-turned-bibliography to accompany the piece, experimenting with citing the omnipresence of Afro Diasporic influence on pop culture. Sampling, chorus refrains, accumulation, percussion, and call and response power the music, the dancing, and the set. The Pointer Sisters cover Steely Dan. Grace Jones interprets Edith Piaf. Miss Susie and her steamboat, from a childhood rhyme, mutate into a Vaudevillian dream. 
Members of her ensemble practice a variety of folk forms: Taiko drumming, capoeira, waacking, and house. Kind is known for tickling expectations of dance, and Wolfthicket is an exuberant culmination of her ongoing research into a theme that weaves through all of her work: Why do we dance? 
—
Premieres on August 21, 2021 at Merz Hall, in the Lutheran Church of the Holy Communion. The shows run Saturdays and Sundays through September 5, 2021, with an additional Thursday performance on August 26th. Doors open at 7 pm and the show starts at 7:30 pm with no late entry, running approximately one hour. All audience members will be required to wear a mask. All performers are vaccinated. Info at lilykind.org.